Technical Consultation
The Institute of Mathematics for Industry has set up an office for technical consultation to provide a broad range of consultation to parties both inside and outside Kyushu University on mathematical problems related to industrial technologies. In addition to providing consultation on practical problems that come up in the course of everyday research or work in relation to numerical simulation, statistical techniques, optimization, etc., consultation is also provided to parties who are looking for mathematical solutions to problems in the industrial sector or in other engineering or information technologies. This consultation desk is a permanent fixture at IMI staffed with a number of consultants who look forward to help anyone with mathematical problems. The method and specific procedure for applying for technical consultation is given below.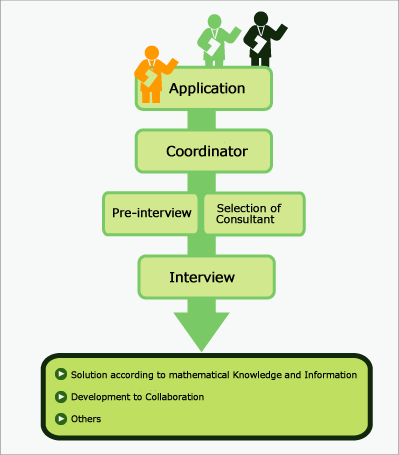 Download the consultation form ( Word format: 48KB / pdf format: 89KB ), enter applicable items, and send by e-mail to techcons@imi.kyushu-u.ac.jp. Please see this example form (pdf format: 81KB) as a guide to filling out the consultation form.
The coordinator will analyze the consultation request and select a consultant within about two weeks after receiving the application. A preliminary consultation may be held if necessary.
The applicant seeking consultation will then meet with the consultant to find solutions to the problem in question.
Consultation Form